How To Find The Best Photographers For Weddings
September 19, 2019
0 Comments
---
---
One of the best ways to find a wedding photographer that will match up to your requirements is to conduct an interview well before you decide to sign a contract with them. Keep in mind that you will be spending most of the day with this photographer, so over and above enjoying their style, making sure you have interviewed them in person, is one of the better ways to ensure that you will feel comfortable having them around.
Below are a few important questions you need to ask the photographer to assist you in narrowing down the options on how to find the best wedding photographer.
1. Availability 
The first and most important question to ask is whether the photographer will be available on the date of your wedding. If the photographer runs their own business and they do not operate from a studio, they will probably be the person that will be shooting at your wedding. If on the other hand, they own a large studio and they employ a group of photographers, ensure that you are meeting the person that will be taking the photographs on the day.
It is also important to find out if there will be other weddings on the same day as your wedding that the photographer will be shooting at. Ask the photographer whether they work with assistants. Some wedding photographers work with their assistant, while others will decide whether it is necessary to use one according to how small or large your wedding will be.
2. Background Check 
The next important question to ask is how long and how many weddings they have photographed. You may also want to ask if they shoot weddings which are similar in style and size to the wedding you are planning. At this stage, you can ask the photographer to show you galleries of some of the more recent weddings they have photographed.
Unlike albums or highlight galleries, the full-gallery will provide you with a better idea on the style of the photographer, along with their attention-to-detail. It is important to make sure the gallery is from weddings that have shot over the last few months to provide you with a more accurate representation.
3. Style 
Ask the wedding photographer about how they describe their photography style. You can also ask what they compare their work to? It is also important to find out whether they shoot wth film, digitally, or both. The medium will not be the deciding factor on how good the photographer is, yet it will impact the photography style that you will get. From here you can look over the film and digital work to find out which style appeals to you the most.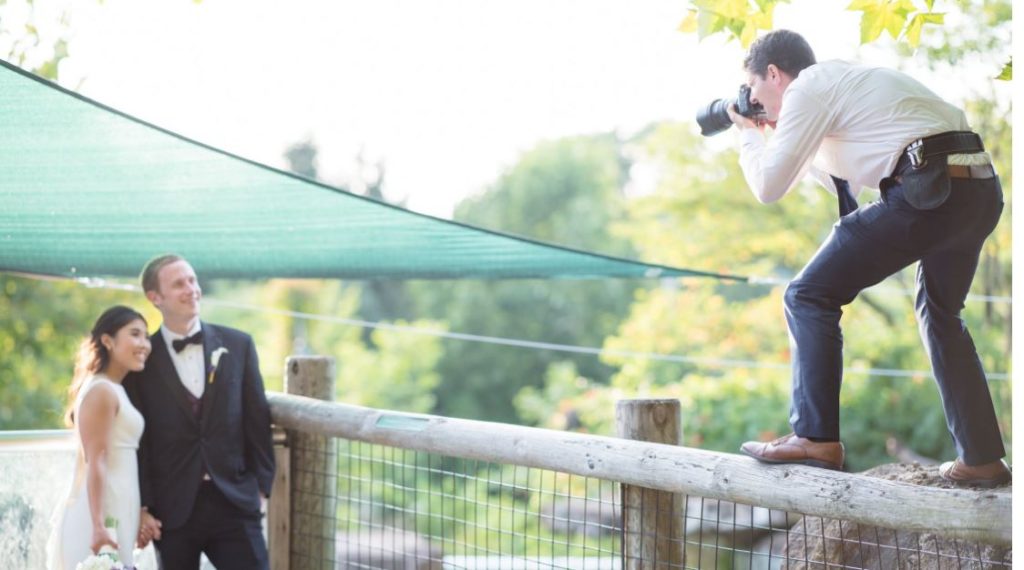 4. Packages And Prices 
The next part of your interview is to find out what will be included in a standard package. Also, find out about the add-ons for the packages that are more expensive. Many of the best wedding photographers will provide add-ons, from albums to engagement sessions, which provides a way to obtain the coverage you feel works the best for your needs.
Find out about how many hours will be included for each of the packages. It is also important to find out how much they will charge you for extra hours. If the base package covers 6 hours, you may want to add in an extra hour or two to capture the shots when you are getting ready, or allow time after the dinner to get in a few pictures of your guests dancing before they leave.
5. Do They Offer A Photo Booth 
It is important to find out if the photographer offers color adjustments, retouching, or corrective services. Other important factors include finding out if your wedding photographer charges an additional travel fee. Many photographers will charge an additional travel fee if your wedding venue falls outside of the radius that they usually work in. If the venue is very far away you may need to pay for accommodation for your photographer.
6. Albums And Prints 
When interviewing the best wedding photographers find out if you are able to order albums or prints directly from them. If they do offer this service find out about the types of albums that they offer. You should also ask how long you can expect to wait after your wedding for the images. The photographer should also inform you whether you will receive high-resolution digital images or negatives.
7. Logistics 
If you have decided on a wedding photographer that you like, the next step would be to ask when you can expect to receive your contract. Your photographer will probably ask for a deposit upfront. You may also want to find out whether the photographer will accept installation payments. It is also very important to find out about the photographer's cancellation or refund policy.
8. Does The Photographer Carry Backup Equipment? 
Should an accident arise and the camera of the photographer gets damaged, it is essential that they are carrying a back-up.
9. How Will The Photographer Be Dressed? 
You are allowed to ask your photographer to stick to your dress code for your wedding, yet it is important to take into consideration that they will move around a lot across the day. So you may need to compromise on a stylish suit or a smart dress and flat shoes rather than a tuxedo or a ballgown.
10. Find Out If You Can Request A List Of Specific Shots 
It would be a very difficult task to specify each and every single shot that you would like for your wedding day. Yet it is advisable to let the photographer know which shots are most important to you, such as the first dance, or important family members that you would like included in certain poses.
The last question to ask your photographer is whether your wedding photos will be posted on the photographer's website or their social media page. If you are very particular when it comes to privacy, you need to make sure that your photographer is aware of how you feel.